I am a photojournalist and a documentary photographer based in London focusing on human rights and forced migration. I have experience working with refugees, asylum seekers and migrants, both in London where I'm based and abroad, such as in Amman and Kuala Lumpur, and have worked at several borders, including Lesvos, Calais, the Balkans and the Canary Islands.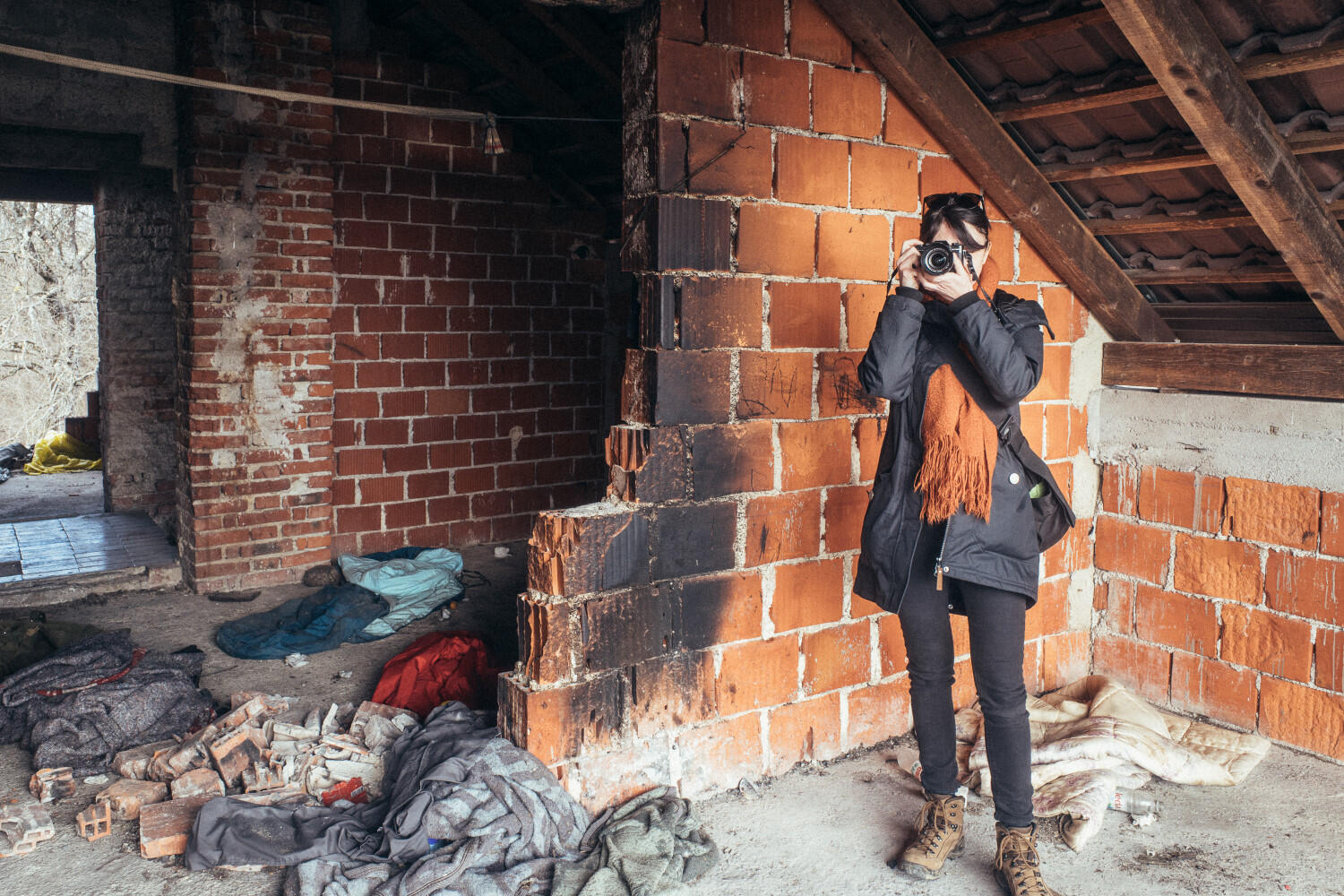 Awards
WPOW Scholarship, 2022
Shortlisted in the International Women in Photo Association Award 2022
Winning single image, Portrait of Humanity 2021, British Journal of Photography - 1854 Media
Shortlisted in Siena Creative Photo Awards 2021
Honourable mention at Photography 4 Humanity 2020 Global Prize
Finalist in Reconstruction of Identities Open Call 2019
SURVIVORS
Canary Islands, Spain 2021
There is a way to Europe through the Atlantic Ocean, and it comes with an alarming cost in human lives. It's the sea route from West Africa to the Spanish Canary Islands, which saw a big spike in arrivals since the second half of 2020.
Those who make this journey mostly come from Mali, which recently saw two military coups, Senegal, Morocco and Ivory Coast, among others. Besides the toll taken by the pandemic, West African economies based on artisanal fishing have been suffering more and more because of the ever-intensifying industrial fishing off their coasts, due to agreements with Europe and illegal activities by Chinese vessels. At the same time, the tightening of other routes to Europe forced people to search for alternative ways. This has been partially due to Covid-19 measures, but in big part as a result of European efforts to contain irregular migration in the Western and Central Mediterranean.
This route entails travelling long distances in small boats with inapt engines. Shipwrecks are common, and engine problems or disorientation can leave people adrift for days or even weeks, probably making this route the most dangerous way to Europe, with 4016 lives lost during 2021 alone, over twice as many than the previous year.
After landing, a different nightmare begins for the survivors. The Spanish Government implemented the so called "Plan Canarias", aimed at keeping people on the islands whilst organising repatriations whenever possible. Several new camps have been built to host people on the islands. Asylum procedures have been delayed, with many waiting to apply for international protection even months after arriving. "Mañana" - tomorrow - resonates outside the reception centre of Las Raices, in Tenerife - it's the Spanish word that everyone knows here, as it's the answer they receive to everything.
The feeling of being trapped and the uncertainty for the future cannot but exacerbate the trauma of what people had already to endure.
WHERE DREAMS ARE ON HOLD
Bosnia and Herzegovina 2021
Along the corridors of the abandoned buildings and in the shelters where the people on the move live in Bosnia and Herzegovina, time has frozen. Thousands of people try to reach Europe along the Balkan route every year. They are coming from Afghanistan, Pakistan, Iran, Iraq, Syria...fleeing wars and persecutions, looking for a dignified life. Young men represent the majority of those following this route, but there are many families with young children and elderly too. After the formal closure of the Balkan route in March 2016, people were left with no other choice than to pursue irregular ways of entry. Whilst originally most went through Serbia, the tightening of the borders along this route meant that since 2018, more people started to transit from Bosnia and Herzegovina instead. The country has become a forced stop for them. In fact, people regularly report being victims of pushbacks when they try to cross the border into Croatia, and thus into Europe, what is referred to as the "game". Money, phones and personal belongings are normally subtracted by the police or special forces involved. It is not uncommon to hear that people are deprived of their shoes too, thus having to walk back barefoot for hours until they reach their shelter, sometimes even in the unbearably cold Bosnian winter. Very often the pushbacks are violent and involve beatings and the use of dogs. Most people report trying several times, even dozens of times, before being able to reach a European country where they can apply for international protection. This means months, or even years, stuck in limbo, which cannot but exacerbate the trauma of what people had to endure. They come back, each time, to the same corridors, suspended in space and time, where dreams are on hold.
Nisar Alì comes from Pakistan, here they call him the German, as he can speak this language. "Now is not the time for dreaming" he tells me. He first needs to reach Europe, get his papers and a job to help his family. Azizullah is a young boy from Afghanistan. He has fled his country due to the Talibans. His dream is to reach Sweden and become a journalist, as one of those he could hear at the radio back home. Elena is a woman from Ukraine who lived for 20 years in the Netherlands, before being deported back. She is now following the Balkan route to reach the country she called home for so long, and dreams of writing a book with all what she has learned about migration during this journey. Maha is a Palestinian woman coming from Syria. Her husband and her just want to find a safe place where their children can be safe and go to school. Mohamed used to work as a tailor back home in Afghanistan and he tells me that hopefully I'll take a good photo of him one day, when he'll have made himself a nice suit in Italy. Rashid is a young man from Pakistan. He doesn't speak much English, and I can't speak Urdu, but I can see them in his eyes, those dreams on hold, as he looks over to the border he already tried to cross for 13 times...
SEEKING REFUGE IN THE TIME OF CORONAVIRUS
Italy 2020
Faces and feet telling the story of a long journey. Walking for hundreds of kilometers across mountains and rivers. The fear of getting caught. The repeated pushbacks at the borders. The relief of having made it to Italy, mixed with the uncertainty of what to expect. The commitment of those who every night take care of the people in transit from Trieste. Every night tirelessly on the street to treat the feet, fill the stomachs and change the old shoes for a new pair, to walk on the next road.
I met these young men in Trieste, at the end of the Balkan route, during their journey in search of asylum in Europe. Access to temporary shelters here, like elsewhere, has been limited due to COVID-19 measures. This means that people in transit, like them, have been left with no other choice than to sleep rough. The impact of the pandemic has been, and still is, very hard on those seeking asylum. Borders have been further tightened, with increasing reports of pushbacks. Alongside this, the pandemic has fuelled negative feelings towards migrants, accused by some of spreading the virus. This has worsened the unwelcoming climate that people seeking refuge are often faced with.
Every day the volunteers from Linea d'Ombra and Strada Si.Cura are helping the people in transit from Trieste with the basic necessities after such a journey, but most importantly showing them that there is someone who cares. An asylum seeker in Calais once told me, about the NGOs, that even more than the practical help, what is really important is being there to offer a friendly smile...creating a little corner of humanity.
INVISIBLE BORDERS
Greece 2019
Dimitri in a red dress, her favourite colour, to celebrate St. Dimitri's day. Her hands show her grace. Her eyes, the scars and the pride of her battle.
Dimitri was born as a boy in the small fishermen village of Skála Sikaminéas, on the Greek island of Lesvos. At the age of 14, she told her parents that she was a girl. She struggled to be accepted throughout her life and experienced tough times, living in a mental institution during her childhood, as well as years of homelessness in Athens. She had to fight for her right to cross the invisible border of gender identity. After her parents passed away, she started wearing women's clothes. Dimitri told me she now feels comfortable with her identity and the way she looks. In the little sunny harbour of Skála, she walks with her head held high. Dimitri lives in the house she grew up in, where her battle began. She covered the walls with religious images, as she is very devout, like her mother. She loves opera, especially Maria Callas, and often plays it very loud, filling the calm air of Skála with melancholy. When I asked her why she often looks sad, she said it's because of all the horrible things happening in the world, and she wasn't just referring to what she learns from the news. There is in fact another story, hidden in the background, one of forced migration, which Dimitri can witness first-hand. The invisible border between Turkey and Greece lies in the water just a few kilometres behind her. Thousands of people risk their life to cross it every year, fleeing conflict or persecution. Women, children and men, seeking refuge in Europe, land on this island, often on the shores of her very own village.
Our society has failed you, beautiful candid soul. Skala will not be the same without your Maria Callas filling the air with melancholy (June 2021).
FAMADIHANA - RECONNECTING WITH THE DEAD
Madagascar 2015
Malagasy people have a very unique relationship with death, far from what we are used to in the Western world.
Famadihana is a ritual to celebrate the ancestors, traditional to the Merina people, in the central highlands of Madagascar. The celebration starts at home with a treat, fat pork meat (bemanaka). Then the whole village joins the family on their journey to the crypt of their ancestors, where the head of the family gives a speech in front of the assembled crowd. The bodies are exhumed and carried out of the tomb on straw mats. Family members raise them above their heads and dance to the music of flute players. The dead are updated with recent family news, some are even given a swig of their favourite liquor. The ritual is all about reconnecting, in a joyous rather than mournful way. Before being returned to their tombs, the bodies are wrapped in new shrouds and tied up. The sound of cloths ripping overlaps with the chatter and the live music, in a solemn and emotional yet very festive atmosphere.
HOW STRONG YOU ARE
Malaysia 2019
Zhara, Malika and Hussain are three young siblings. They live in a small flat in a 15 storey building in the suburbs of Kuala Lumpur, Malaysia. They are Hazara and come from Afghanistan, but they had to flee their home country, as Hazara people are still facing ethnic and religious discrimination and persecution. In Kuala Lumpur, Hussain provides for his sisters by working in a bakery. He is the eldest. "You never know how strong you are, until being strong is the only choice you have." These are his words on a social media profile, showing his resilience. Malika, the youngest, is really good with languages and often acts as an interpreter from Farsi to English for the others. She teaches English in kindergarten, in the local community centre for Afghan refugees, to kids aged four to five. 'They are cute, but also a bit naughty', she says laughing. She has the most hilarious and sweet laugh you could imagine. Zhara is a beautiful young woman, with a more composed personality than her sister. She cooks delicious Afghan dishes, that remind her of home, and dreams of one day becoming a doctor.
Malaysia however didn't sign the 1951 Refugee Convention and it doesn't recognise the refugee status. Yet there are 160 thousand registered refugees in the country, and many more unregistered. They are mostly Rohingya refugees who escaped from Myanmar, but other nationalities are present too - Syrians, Yemenis and Afghans amongst them. They aren't allowed to work and cannot attend state schools, while the cost of private ones is too high for them to afford. They can only rely on UNHCR-issued ID cards. Under Malaysian law they are liable to arrest or deportation, but showing this card provides some protection. Since they aren't allowed to work legally they have no choice but working off the books, with very low wages and no protection. What is worse, if the police find them working, they can be arrested or sometimes have to bribe them in exchange for turning a blind eye. It's a limbo similar to asylum seekers awaiting a decision in Europe, the difference being, for them it will last until Malaysia changes its policy relating to refugees. The chance of relocation to a third country that could provide asylum is very slim. The USA being the main country of resettlement from Malaysia, the chances have recently become even slimmer due the policies implemented by the Trump administration.
This is Zhara, Malika, Hussain and many others' everyday reality. Trapped between a painful past and a bleak future, far from home, they are relying on their incredible resilience.
(The names have been changed.)
STOLEN MOMENTS
I often, almost instinctively, find myself capturing mental snapshots of what I see. Sometimes I also take an actual photo!
"Every reader, as he reads, is actually the reader of his own self." Marcel Proust
DEMONSTRATIONS
London, United Kingdom