I am a documentary photographer and storyteller based in London with a great interest in issues related to human rights and forced migration. I have worked in the humanitarian field in London, Amman, Kuala Lumpur and at several European borders, in Lesvos, Calais, Bosnia and Herzegovina and the Canary islands.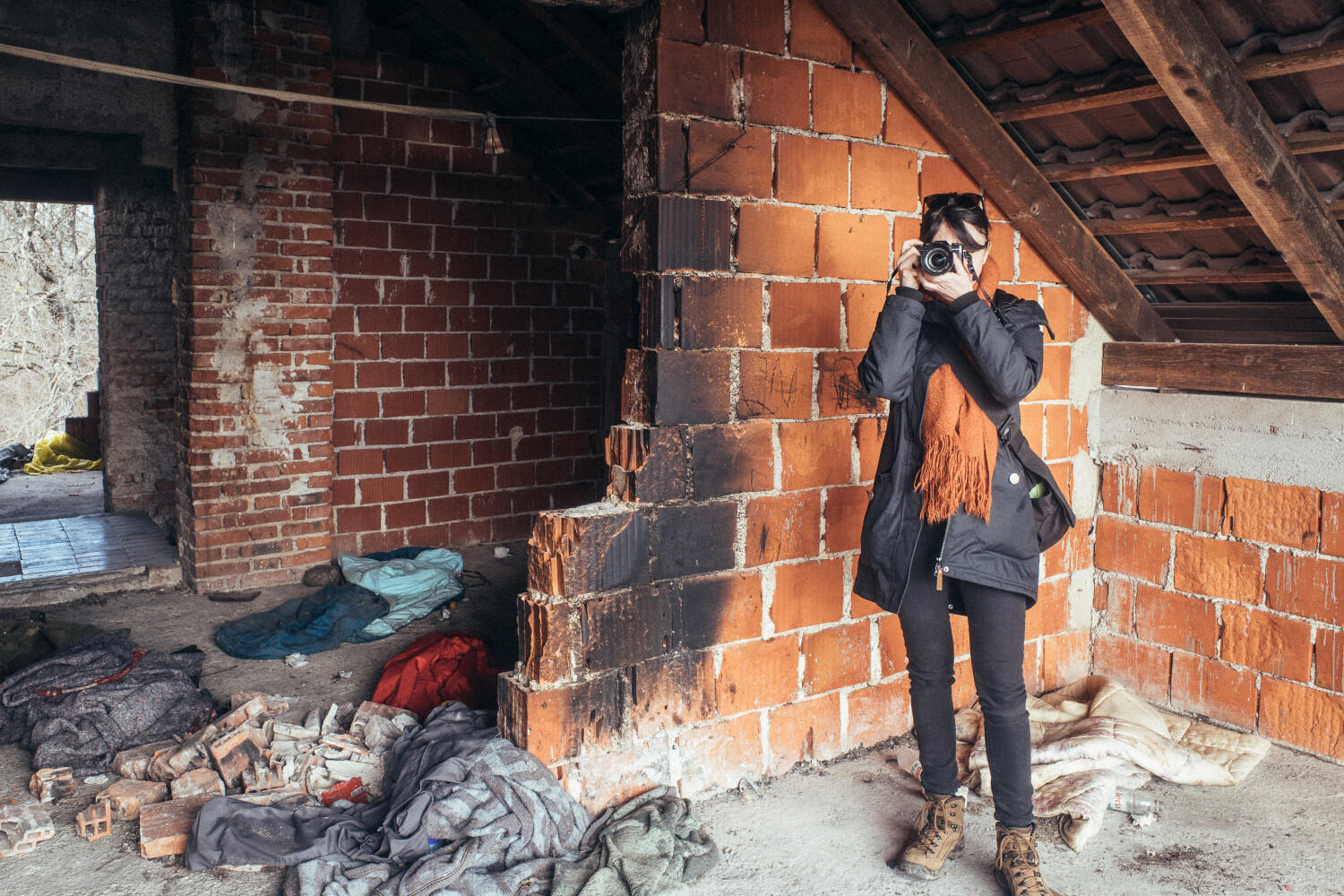 Awards
Portrait of Humanity 2021, winning single image, British Journal of Photography - 1854 Media (Feb 2021)
Shortlisted in Siena Creative Photo Awards 2021 (May 2021)
Semi-Finalist in Photography4Humanity 2020 Global Prize (Oct 2020)
Finalist in Reconstruction of Identities Open Call (Nov 2019)

Features
Portrait of Humanity Vol. 3, HOXTON MINI PRESS, 2021
Rotta balcanica: chi paga la stagione della normalizzazione in Bosnia ed Erzegovina, by Diego Saccora, Altreconomia (Mar 2021)
Portrait of Humanity photo awards capture hope and courage in a year of struggle, CNN style (Feb 2021)
Portraits of Humanity, The Times (Feb 2021)
Healing issue, Ekō magazine (Jan 2021)
Injustice and Inequalities: Covid-19 issue, PhotojournalismHub (Jan 2021)
Staying Home Together, photographic book by Exhibit Around and issue on F-Stop Magazine (Aug 2020)
Frozen Present: A Story of Resilience of Refugees in Malaysia, Sona Circle (Jul 2020)
Like a wave that never breaks, Europe Must Act (Aug 2020)
Invisible borders, Immaginare dal vero (Mar 2020)
WHERE DREAMS ARE ON HOLD

Bosnia 2021
Time is frozen, in the corridors of the abandoned buildings and in the shelters where the people on the move live in Bosnia. For thousands of people trying to reach safety in Europe along the Balkan route every year, Bosnia becomes a forced stop in limbo. In fact, the "game", the attempt to cross borders, is met with harsh and repeated pushbacks by the Croatian police. People report trying to cross and being returned to Bosnia often tens of times, sometimes violently. And it means going back to these corridors, to a suspended space and time, where dreams are on hold.
Nisar Alì comes from Pakistan, here they call him the German, as he can speak this language. "Now it's not the time for dreaming" he tells me. He first needs to reach Europe, get his papers and a job to help his family. Azizullah is a young boy from Afghanistan. He has fled his country due to the Talibans. His dream is to reach Sweden and become a journalist, as one of those he could hear at the radio back home. Elena is a woman from Ukraine who lived for 20 years in the Netherlands, before being deported back. She is now following the Balkan route to reach the country she called home for so long, and dreams of writing a book with all what she has learned about migration during this journey. Maha is a Palestinian woman coming from Syria. Her husband and her just want to find a safe place where their children can be safe and go to school. Mohamed used to work as a tailor back home in Afghanistan and he tells me that hopefully I'll take a good photo of him one day, when he'll have made himself a nice suit in Italy. Rashid is a young man from Pakistan. He doesn't speak much English, but I can see them in his eyes, those dreams on hold, as he looks over to the border he already tried to cross for 13 times...
SEEKING REFUGE IN THE TIME OF CORONAVIRUS

Italy 2020
Faces and feet telling the story of a long journey. Walking for hundreds of kilometers across mountains and rivers. The fear of getting caught. The repeated pushbacks at the borders. The relief of having made it to Italy, mixed with the uncertainty of what to expect. The commitment of those who every night take care of the people in transit from Trieste. Every night tirelessly on the street to treat the feet, fill the stomachs and change the old shoes for a new pair, to walk on the next road.
I met these young men in Trieste, at the end of the Balkan route, during their journey in search of asylum in Europe. Access to temporary shelters here, like elsewhere, has been limited due to COVID-19 measures. This means that people in transit, like them, have been left with no other choice than to sleep rough. The impact of the pandemic has been, and still is, very hard on those seeking asylum. Borders have been further tightened, with increasing reports of pushbacks. Alongside this, the pandemic has fuelled negative feelings towards migrants, accused by some of spreading the virus. This has worsened the unwelcoming climate that people seeking refuge are often faced with.
Every day the volunteers from Linea d'Ombra and Strada Si.Cura are helping the people in transit from Trieste with the basic necessities after such a journey, but most importantly showing them that there is someone who cares. An asylum seeker in Calais once told me, about the NGOs, that even more than the practical help, what is really important is being there to offer a friendly smile...creating a little corner of humanity.
INVISIBLE BORDERS

Greece 2019
Dimitri in a red dress, her favourite colour, to celebrate St. Dimitri's day. Her hands show her grace. Her eyes, the scars and the pride of her battle.
Dimitri was born as a boy in the small fishermen village of Skála Sikaminéas, on the Greek island of Lesvos. At the age of 14, she told her parents that she was a girl. She struggled to be accepted throughout her life and experienced tough times, living in a mental institution during her childhood, as well as years of homelessness in Athens. She had to fight for her right to cross the invisible border of gender identity. After her parents passed away, she started wearing women's clothes. Dimitri told me she now feels comfortable with her identity and the way she looks. In the little sunny harbour of Skála, she walks with her head held high. Dimitri lives in the house she grew up in, where her battle began. She covered the walls with religious images, as she is very devout, like her mother. She loves opera, especially Maria Callas, and often plays it very loud, filling the calm air of Skála with melancholy. When I asked her why she often looks sad, she said it's because of all the horrible things happening in the world, and she wasn't just referring to what she learns from the news. There is in fact another story, hidden in the background, one of forced migration, which Dimitri can witness first-hand. The invisible border between Turkey and Greece lies in the water just a few kilometres behind her. Thousands of people risk their life to cross it every year, fleeing conflict or persecution. Women, children and men, seeking refuge in Europe, land on this island, often on the shores of her very own village.
FAMADIHANA - RECONNECTING WITH THE DEAD

Madagascar 2015
Malagasy people have a very unique relationship with death, far from what we are used to in the Western world.
Famadihana is a ritual to celebrate the ancestors, traditional to the Merina people, in the central highlands of Madagascar. The celebration starts at home with a treat, fat pork meat (bemanaka). Then the whole village joins the family on their journey to the crypt of their ancestors, where the head of the family gives a speech in front of the assembled crowd. The bodies are exhumed and carried out of the tomb on straw mats. Family members raise them above their heads and dance to the music of flute players. The dead are updated with recent family news, some are even given a swig of their favourite liquor. The ritual is all about reconnecting, in a joyous rather than mournful way. Before being returned to their tombs, the bodies are wrapped in new shrouds and tied up. The sound of cloths ripping overlaps with the chatter and the live music, in a solemn and emotional yet very festive atmosphere.
HOW STRONG YOU ARE

Malaysia 2019
Zhara, Malika and Hussain are three young siblings. They live in a small flat in a 15 storey building in the suburbs of Kuala Lumpur, Malaysia. They are Hazara and come from Afghanistan, but they had to flee their home country, as Hazara people are still facing ethnic and religious discrimination and persecution. In Kuala Lumpur, Hussain provides for his sisters by working in a bakery. He is the eldest. "You never know how strong you are, until being strong is the only choice you have." His commitment and resilience are beyond moving. Malika, the youngest, is really good with languages and often acts as an interpreter from Farsi to English for the others. She teaches English in kindergarten, in the local community centre for Afghan refugees, to kids aged four to five. 'They are cute, but also a bit naughty', she says laughing. She has the most hilarious and sweet laugh you could imagine. Zhara is a beautiful young woman, with a more composed personality than her sister. She cooks delicious Afghan dishes, that remind her of home, and dreams of one day becoming a doctor.
Malaysia however didn't sign the 1951 Refugee Convention and it doesn't recognise the refugee status. Yet there are 160 thousand registered refugees in the country, and many more unregistered. They are mostly Rohingya refugees who escaped from Myanmar, but other nationalities are present too - Syrians, Yemenis and Afghans amongst them. They aren't allowed to work and cannot attend state schools, while the cost of private ones is too high for them to afford. They can only rely on UNHCR-issued ID cards. Under Malaysian law they are liable to arrest or deportation, but showing this card provides some protection. Since they aren't allowed to work legally they have no choice but working off the books, with very low wages and no protection. What is worse, if the police find them working, they can be arrested or sometimes have to bribe them in exchange for turning a blind eye. It's a limbo similar to asylum seekers awaiting a decision in Europe, the difference being, for them it will last until Malaysia changes its policy relating to refugees. The chance of relocation to a third country that could provide asylum is very slim. The USA being the main country of resettlement from Malaysia, the chances have recently become even slimmer due the policies implemented by the Trump administration.
This is Zhara, Malika, Hussain and many others' everyday reality. Trapped between a painful past and a bleak future, far from home, they are relying on their incredible resilience.
STOLEN MOMENTS
I often find myself capturing mental snapshots of what I see. I'm not sure if that's why I love photography or if it is photography that taught me how to see and seek beauty...
"Every reader, as he reads, is actually the reader of his own self." Marcel Proust